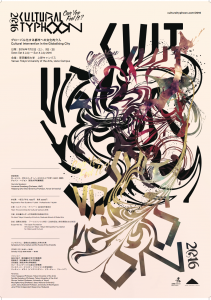 Cultural Typhoon was a cultural event that took place at Tokyo University of the Arts, 2-3 July 2016. Cultural Typhoon takes its name from a real typhoon that imposed itself on the preparatory meetings for the first event in 2003. The energy and unpredictable course of typhoons lend symbolic content for the events that serve as meeting places for intellectual exchange between scholars, artists and social activists in a format that is not restricted by the formal academic type of conference. In a mix of lectures, performances, workshops, film screening, exhibitions, cafes and other cultural activities, the Cultural Typhoon attracts between 500 to 1000 people each year.
This year was the first Cultural Typhoon to take place at an art university, and with the subtitle Cultural Intervention in the Globalising City had a particular emphasis on art and cultural practices. The main organiser, Professor Mōri Yoshitaka, refers in his introduction to the dance track Can You Feel It? by Mr. Fingers (Larry Heard) from 1986, which became a classic in House Music, and is often remixed with Martin Luther King's famous  I Have a Dream speech from 1963. The Neo Liberal and market-oriented globalization of today is far from the multiculturalism of the 1980s, and the conference seeks to ask the question: Can You (still) Feel It? What kind of cultural practices today can envision new futures that can challenge neo-conservatism, racism, and religious fundamentalism?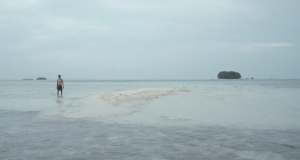 Several art projects, performances and workshops were shown during the two days event. In the large space in the University Hall, Japan-based artist James Jack displayed his video art work Disappearance of Khayalan Island, in which the memories of one person reimagines the mythic islands that disappeared in early 19th century.
The artist group NOddIN (which is the word Nippon (Japan) placed up side down) is a collaboration between various film makers, who seeks to create new types of film and video work in the wake of March 11, 2011, with the goal to stop the use of nuclear power and to challenge power of mass media. One art work displayed short press clips with Prime Minister Abe declaring that all is under control after the Fukushima nuclear power meltdown, while a critical commentator appeared in a smaller screen in the television set. A photo series on the wall questions where in Japan is it safe to have a baby, while also pointing to the paradox of decreasing birth rates in Japan.
The artist Endō Mai made a performance in which she embedded her painted body into a copy of an Andy Warhol silk screen print of Marilyn Monroe. Wearing a fake penis and a white-haired wig and glasses, as well as high-heeled shoes, Endō sang the songs I Wanna Be Loved By You and Happy Birthday Mr President with Japanese lyrics.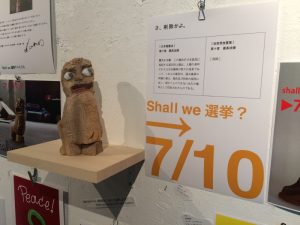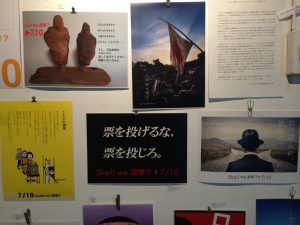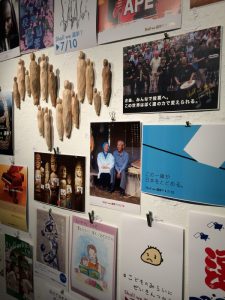 A collective art project from students at Tokyo University of the Arts on the entire wall displayed a large variety of posters and other objects under the theme of Shall We 選挙 ? (shall we vote?), with reference to the election of members to the upper House on July 10th. Encouraging especially young people to cast their vote, the campaign emphasized the importance of the election in terms of challenging the politics of Prime Minister Abe Shinzō (-but as we now know, Abe and his ruling coalition won the majority of the Upper House on July 10th, and will probably now seize the opportunity to not only continue the economic plan known as Abenomics, but also go forward in a controversial change of Japan's constitution so Japan can build up a military)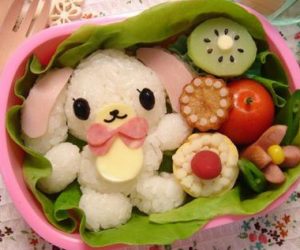 Among the academic panels on the Cultural Typhoon event, the first panel I attended on Saturday July 2nd was a critical investigation on cute kyara (characters) in Japan. Debra J. Occhi presented her findings on the ideals for Japanese mothers to make food in their children's lunch box (o-bentō) look like cute characters, presenting not only how this phenomenon has enforced certain ideologies of "motherhood" during the last two decades, but also how many women subvert such ideals by making "black" lunch boxes.
Joshua Dale compared art works by the two Japanese female artists Sputniko! (above left) and Rokudenashiko (above right) in terms of using the cute kyara as symbol of feminist critique, and elaborated on the court case that the later is involved in concerning questions of her art being "pornographic" or "cute". Ingeborg Hasselgren presented examples from Sweden of cuteness used in subversive manners and how the concept is used for creating a queer utopia. The discussion afterwards included comments on the aesthetic category of the cute by Sianne Ngai, and Dale suggested that the Japanese kawaii does not include the notion of antagonism in the same way as Ngai's cute, but rather that aggression is attached. Cute and kawaii are thus not the same, but may share similarities in the affect they both produce.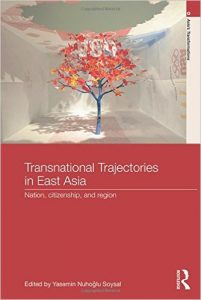 Another panel was a presentation and discussion of the book Transnational Trajectories in East Asia: Nation, Citizenship, and Region (Routledge 2014; paperback version 2016), in which the editor Yasemin Nuhoglu Soysal and some of the authors and other critics would discuss regionalism and transnational encounters in East Asia. There are different politics and involvement in terms of collaborating across nations in the East Asian region, and can be identified on three main levels: the state, the societal sectors, and the individual. Adrian Favell suggests new types of cosmopolitanisms in terms of young Japanese artists, surpassing older forms of modernity by way of exploration of personal and global self identity, of new relations to technology in communication, and environmental and political concerns in broader global context.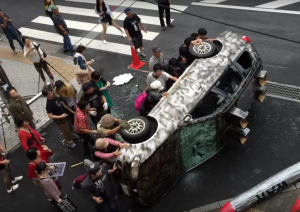 The third panel I attended was entitled Unruly Collectives of Autonomous DIY Culture, and featured three speakers with different perspectives on contemporary art activist cultures. Catherine Tsukasa Bender presented various examples of anti-war and anti-globalisation activities in Japan in recent years, and shared a map of the history of autonomous cultures since 2010 with focus on alternative lifestyles and everyday practices. One example was an anti-war event in August 2015 in Asagaya area (the image above is from a YouTube video Operation Anti-War Asia: Asagaya). The networks were already in place after the 2011 events of earthquake, tsunami and nuclear disaster, so organisation of art activities go fast.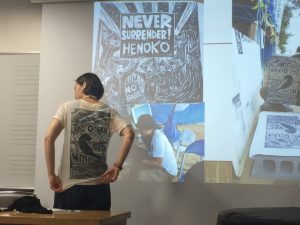 Tokunaga Risa followed with a presentation of wood block print collectives in Malaysia, while Kano Ai talked about similar movements in Japan: the A3BC (Anti-War, Anti-Nuclear and Arts of Block-print Collective) is an example of a movement which uses wood block print as medium for art activism that converges art practices and social issues. The wood block prints cross the traditional boundaries between the traditional wood block prints of Japanese art history, and the lesser known history of social realism in Japanese art. Kano Ai was wearing a T-shirt with wood block print as an example of the A3BC activities which protest the establishment of a heliport in Okinawa. The photographer Egami Kenichiro ended the session with a series of photographic documentation from various activist movement throughout South-East Asia.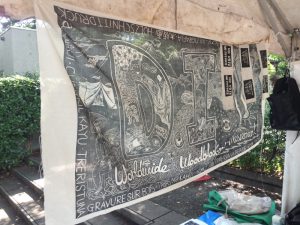 The A3BC movement had organised a workshop in a tent outside the buildings of Tokyo University of the Arts. Using the pun on "hunger" (as in Mahatma Gandhi's "hunger strike") and hanga (wood block print), the workshop was entitled 版画STRIKE – Can you feel it から Anyone can do it へ (Wood block print STRIKE – from Can you feel it to Anyone can do it), and was open for anyone to join. You could carve out an image or phrase on a piece of wood, and print it on cloth next to the prints of others, and contribute to a collective art activist work.
Sunday morning the panel Art and Politics in Postwar also included print works, when Justin Jesty (above left) talked about the Japanese artist Senda Umeji, who worked as a coal miner and created a series of black-and-white wood block prints of the everyday life in the mines in the 1950s. Jesty analysed how the compositions accommodate a relationship with the viewer and how a sense of belonging was shared through the aesthetics of the print. Namiko Kunimoto (above right) talked about the artist Nakamura Hiroshi with attention to the depiction of gendered bodies and the site as a place of political importance in social realism. Taking up consumerism as a source for new visuality in the 1960s, Nakamura's recurring themes were based on school girl as a highly charged figure, and images of steam train disasters that functioned as symbol of failed masculine power of the imperial state. Shimada Yoshiko presented art works and philosophical ideas of Matsuzawa Yutaka in relation to his notion of "World Uprising" through the eradication of objects. All three presentations serve as examples of postwar Japanese artists who engaged in collective processes or who took initiative on their own to propose new and alternative visions of art and society.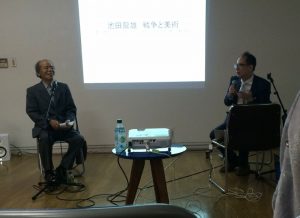 After this, I joined a interview session with the artist Ikeda Tatsuo, in which professor Mōri asked various questions concerning Art and War. Born in 1928, Ikeda was a "kamikaze pilot" during the war, but did not engage in the deadly battle, and was 17 when the war ended. Militarization and fight against US bases in Japan has been a theme in Ikeda's avant-garde art practices .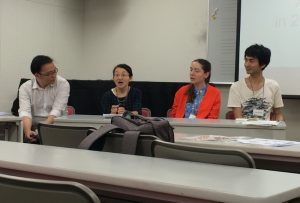 The last panel I attended Sunday was entitled Colonial / Postcolonial Art Exhibitions in the 20th Century Art, and focused on how art in Asian has always been a discursive construction reflecting the inequalities of capitalism. Adachi Gen (right) presented a number of examples of image of nude female figures in modern Asian art, and argued that because the nude as art category did not exist in Asian art in pre-modern period, the nude in Asian art becomes an index of Westernization.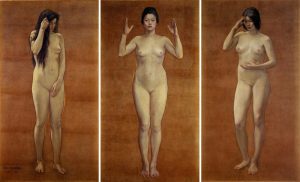 Going through a number of different examples, Adachi demonstrated not only how colonial attitudes were internalized (in the case of Japanese influence on Korean modern art), but also the challenges of representing a nude of the nation's "own" women, such as Kuroda Seiki (above left). Different colonial strategies resulted in different visualities of the female nude, for example that the nude in the Philippines became a symbol of independence (such as works by Felix Hidalgo, right). Furthermore, social and legal attitudes towards prostitution seem to have had an impact on art since the traditional types of brothels declined and a number of former prostitutes became nude models.
Magdalene Kolodziej talked about imperial exhibitions in Japan, Korea and Taiwan during the 1920s till mid 1940s, in which the discourse of flourishing art was a sign of a strong empire. Artists became brokers of the empire by settling in other countries and government official states publicly that art was related to the prosperity of the nation (kokka).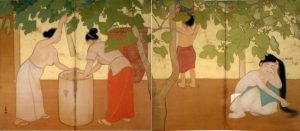 This was also a questions of "civilization mission" on part of Japan as colonial power, and Japanese modern art served as "role model", such as Tsuchida Bakusen and the "primitivism" in his work Island Women shown in Korea Fine Art Exhibition in 1922. While research is usually carried out on the national level of art history, little research has been done on an intra-imperial sphere and the infrastructure of imperial art establishments. Rum Pek presented the artistic activities of zainichi Korean artists (Koreans residing in Japan), and the conditions of diaspora art in the postwar period, also connecting to the geopolitics of Japan's relation to the Korean war.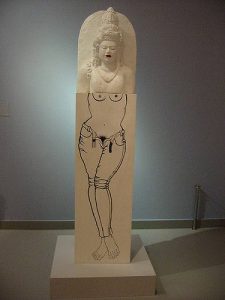 The final paper in this panel by Seng Yu Jin focused on "the critical exhibition" as a phenomenon in the 1970s, where art exhibitions became sites of resistance in many Southeast Asian countries. This included student protests against military and artist-student radicalisation in the 1970s, as well as other new left movements across the region fighting for decolonization and democracy. Students and activists were often also artists, and new art formats emerged, such as bill boards and posters and other public art forms. Some works, such as Jim Supangkat's Ken Dedes from 1975 (right), display tension between traditional and religious values and contemporary popular culture.
This panel presented some very important elements of art history that are seldom exposed in conventional art histories that only focus on the national perspective. The panellists applied multiple intersectional geographic and thematic frameworks to the study of exhibition practices in the 20th century, and demonstrated how the conditions for modernist art in Japan, Korea, Taiwan and other places in East and Southeast Asia still have an impact on the notions of art and nation today.
The Cultural Typhoon 2016 proved to be an exciting event that managed to combine artistic practices and academic discussions, and presented a large variety of themes and approaches to art and cultural practices as an important perspective on politics and activism. The event itself showed the increasing attention in Japan to collaborations and cultural activities with other Asian countries and cultures rather than the more conventional focus on Euro-American perspectives, a trend that is echoed in the exhibitions and curatorial practices that I have come across on this short stay in Japan.